Newsroom, the news of the Foundation
Spirituality in the daily life of Nepalese
November 21, 2019
If we consider spirituality as inseparable from the search for the meaning of existence, we cannot ignore the prodigious message delivered by the Holy Quran; a message offering guidance to Muslims around the world, but also to all humans, in a spirit of openness to other communities marked by their different origins, experiences and beliefs.
In Nepal, the spiritual seems to be a ferment of the country, by the natural cohabitation of religions and civilizations that have forged it. There is a climate of concord inviting curiosity and inner questioning, despite the perceptible difficult living conditions. 
Muslims are a minority witch represent 6 to 8 % of the believers and 90 % of Hindus and Buddhists plus other beleavers. But, what a beautiful community these Muslims, men and women, firmly rooted in their faith, attached to their worship and the radiance of the message of God delivered by His prophets, from Adam to Muhammed!
For several days, we had the privilege of visiting Islamic centers, which were certainly devoid of all superfluity, endowed with means reduced to their simplest expression, but always clean, impeccably kept, well organized and happy. The children they welcome benefit spiritually and socially, in the perspective of a life of adults whose harshness can be feared, given the country's situation. Where would they be, these little ones, without those madrasas and orphanages run by these volunteers doing so much with so little! Offering them a Holy Quran was the least that could be done to address the poverty of libraries where only fragmented copies of Holy Quran are sometimes available to facilitate common learning.
A Qur'an for each one: it is also perhaps one of the rare objects of which they were suddenly found proprietors, their joy during the distribution testified. We would like to do more, give these children and their supervisors some additional material support and the assurance of a peaceful future, as we wish for our own children. But we must focus on the Quranforsoul's mission of the donors: to produce and distribute the Holy Quran to the Muslim communities who request it. This year again, the protagonists of this great spiritual project, donors, beneficiaries and organizers, enjoy the same satisfaction: the solace of solidarity, the intimate joy of giving and receiving, the pride of participating in the spiritual journey of oneself and others .
NEXT ARTICLE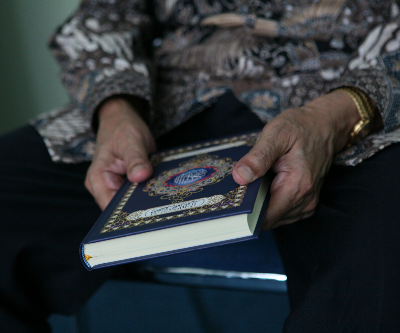 We learned from them the love of the Book of God
I can only thank Allah, who allowed me to visit the Muslim minorities of Nepal and India with Quranforsoul Foundation.
More