Newsroom, the news of the Foundation
Nepal 2019: 94,000 copies of the Holy Quran, successfully distributed
November 28, 2019
A wonderful team of work has been constituted from different part of the world, with Indians, Nepalis, Africans and Europeans, all of them having a unique common ambition: to live moments with God and His divinity, to value the soul and its needs and the Man and his sincerity.
In three days of hard work, with dozens of trips and trips, which took place in scattered locations around the capital Kathmandu, this wonderful team has reached virtually every component of the country's Muslim community. They represent 6 to 8 % of the country's 30 milion population.
Islamic Centers/Madarsa/Ennglish Med. Sch.               |              26 Public place/Business center/Mosque                             |              13 English Medium School/University                                 |              17 Orphan/refugee shelters                                                    |              2 Hospital/Medical Center                                                    |              3 Total Places                                                                           |              61 Total Number of Copies                                                     |              94010
We visited 26 Islamic centers, schools and colleges, 13 public places and Mesjeed (mosques), an orphanage, a refugee center and three medical centers.
We find everywhere the same joy of touching the Holy Quran, everywhere the welcoming Nepali smile, bright eyes full of love and the most noble human feelings.
Those most affected by the distribution of the Holy Quran are obviously children and young people, most of whom are educated in schools and centers, which offer courses and accommodation. Teachers share the same living conditions with their students and live in rooms with beds similar to those of schoolchildren. There, we do not have the feeling of being with pupils and teachers, rather with benevolent fathers and mothers cherishing their own offspring.In a magnifient course of these places, a common denominator remains everywhere: the Nepalese pride, very similar to that of Switzerland, which tells the story of a country built on the peaks of the Himalayan mountains, where everything has a different taste, Nepalese tea with its innumerable varieties, with the habits and traditions shared by all the religious communities of the country. It is only in Nepal that the Nepalese Hindus feels closer to the Muslim or Buddhist of his country, than the great empires encircling them (China and India). In spite of the size of the country and the limited number of its inhabitants compared to other neighboring countries counting their populations by billions, the Nepalese remains authentic, different and proud.
This is what we have felt at every gesture extended by the Holy Quran to these men and women pure and pious, and this is what we wanted to testify.
NEXT ARTICLE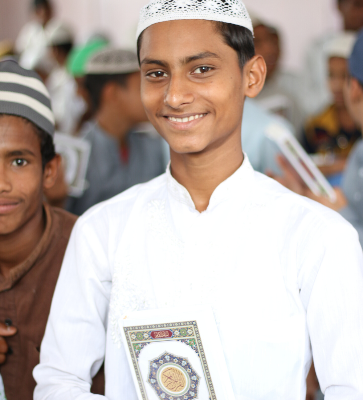 Spirituality in the daily life of Nepalese
If we consider spirituality as inseparable from the search for the meaning of existence, we cannot ignore the prodigious message delivered by the Holy Quran; a message offering guidance to Muslims around the world, but also to all humans, in a spirit of openness to other communities marked by their different origins, experiences and beliefs.
More