Newsroom, the news of the Foundation
Nepal: in the country of colors
June 20, 2019
The smile of a student who touches for the first time his copy of Holy Qur'an has no price. The happiness of an elder squeezing the Holy Quran against his chest deserves to be worked for this project.
We believe that this unprecedented, unique effort in the world, resulting from the civil society and coming back to serve it, must continue, because the Qur'an, the Word of God and light on earth to guide us towards the straight path, does not have its deserved place yet.
Indeed, the Muslims, as well in their Arabic-speaking majority (80 %), that the non-Muslims (3/4 of the humanity), have no access to the divine message yet. Because of this reality, the Qur'an is a victim of a regrettable misunderstanding, its content, of its light. This benefits the subsidence of spirituality and extremist ideologies, leading to Islamophobia.
Our continuous effort aims at surmounting at least partially this sad reality. The impression and distribution of 160'000 copies of the Holy Qur'an a year is a modest contribution, but it establishes a noble and productive action which surely will mark hundreds of thousands of believers, every year.
In 2019, the efforts "Quran For Soul" will benefit in Nepal, this wonderful country of lights and spirituality, which offers the freedom of worship to the various religious communities.
Representing 5 % of the population on 30 million inhabitants, Madhesis, Kashmiris, Churautes and Muslim Tibetans of Nepal, do love their country, protect it and contribute completely to its development. In this magnificent country with Indian majority, you cannot make the difference between Buddhists, Indians, Christians or Muslims, because all share the same clothes, the traditions, the living conditions and the benevolence.
But, as all the population of the continent is Indian, the majority of Muslims in Nepal do not have the means to offer themselves the Holy Qur'an, with a low standard of living, often very below the poverty line. Indeed, when it is necessary to choose between some bread for the family and the purchase of a book, the subsistence dominates.
This is why the foundation "Quran For Soul" will offer this year half of the quantity of copies to print in 2019 for the Muslims of this country. Thus we are going to collaborate with Masjids, centers and Madrassa as "Ahle Hadith Katmandu", "Garden of Dreams", "Madarsa Dar e Arqam", "Madarsa Falahul Muslimeen", "Darbar Square Madarsa Islamia School", "Kashmiri Masjid" and "Madarsa-Kathmandu" Madarsatul Harmain" in Kathmandu, to offer to those who need it, the text of Holy Qur'an.
The pursuit of these efforts depends on your help: contribute to this magnificent work and support this project, donate!
NEXT ARTICLE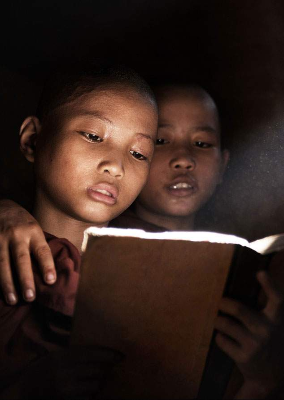 Dostoïevski to his brother… "Send me the Qur'an!"
Great hearts always meet what they have made. It is important that you do not leave ignorance leads you, hatred blocks your way and make you blind, and intolerance overcomes your mind.
More